Successful Trade Show Booths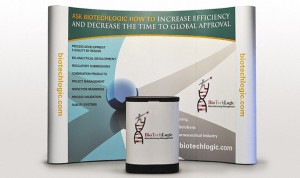 The success of a trade show booth depends as much upon the actual product as it does upon the mode of advertising. When it comes to attracting clients, a company's choice of graphics is every bit as important as the actual display schematic. Trade show booths often use intense visuals to provide potential clients with more than just appealing scenery: they can create an overall "experience" that works to convince customers of a product's superiority.
Creating a Successful Trade Show Booth
There are several ways to catch a client's eyes, but not all will work to a display's professional advantage. A key strategy for promoting your trade show booth is to move one step beyond eye-catching and into the realm of "awe-inspiring". Bright colors, display lights, and moving graphics are eye-catching options, but these concepts alone may not convince audiences that your product is seriously ahead of the game.
Staying "Ahead of the Game"
There is no question that money speaks volumes when it comes to "awe-inspiring". Some trade show booths and displays employ the very latest technologies and craftsmanship, and are awe-inspiring simply due to their size and construction costs. However, smaller and less lucrative businesses can compete, even without a fifty foot island display.
Graphics
Choose your graphics wisely. Visuals that include metropolitan scenery or wilderness panoramas are often awesome to behold. These images play on the senses and give clients an impression of minuteness in the grand scheme of things. Companies that employ such images are playing off this concept—that somehow their vision is larger than life and able to present the world from a bird's eye view.
Sleek and professional graphics will also give your business more of a respectable appearance rather than a bright and gaudy one. It is possible to be bold through innovation as opposed to being merely "bold". Most companies have already defined themselves by their logo. Your banner stands and trade show displays should reflect the character of your logo, without overpowering it.
Custom Displays
Glancing at appealing graphics is only part of the experience. Walking amongst them unveils a multidimensional realm of experience. For this reason many companies choose to invest in inline or island displays. There's no question that these are the most alluring displays at trade shows. Large island displays allow clients to be completely immersed in the advertiser's world. This creates a total disconnect between your company and competing displays. Moreover, today's corporate-led industry often leads clients to equate size and wealth with reliability.
Product Immersion
It is an immersive experience that gives some trade show booths a significant edge over competitors. This may be a difficult tactic for start-up businesses to employ due to the sheer cost of many custom displays. Early on, you may need to depend more on the strength of your product and the artistry of your graphics rather than on a construction scheme. Marketing is a skill in its own right, and it takes experienced trade show designers to effectively match your budget to your advertising needs.
Need a Professional Trade Show Display?
Call Us Today! (312) 455-2201